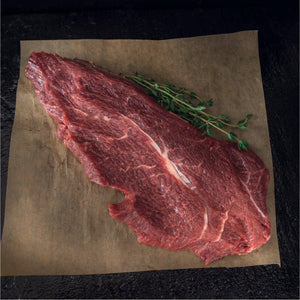 Brown Cow Organics
Organic Beef Feather Blade Steak
Sale price Price £4.50 Regular price each
Organic Guernsey grass fed feather steak, so called because that is what it looks like! 
Recipe Suggestion:
Marinade in olive oil, a dash of lemon juice and herbs for a few hours.
Bring to room temperature and flash fry in a hot pan for 5-6 minutes per side. Allow to stand for 15 minutes prior to serving to allow the juices to settle.
£4.50 per 250g steak
Each steak weighs approximately 250g
Store below 4° degrees
Shelf life minimum 7 days
Suitable for home freezing